We only celebrate recurring events such as anniversaries, graduations, birthdays and weddings, but our life is full of small things worth celebrating.
Don't be like those who are saving celebration after hitting big goals and fulfilling their dreams. Here's the thing, these big expectations are very far off, and you have to put in great efforts for weeks, months, and even years only to see the desired results. How does that make you feel? Dejected. This is why we should learn to celebrate small wins. Celebration breeds excitement.
"The more you praise and celebrate your life, the more there is in life to celebrate."
– Oprah Winfrey
We hope you love the products we recommend! Just to let you know, YACHTV may collect a share of sales or other compensation from the links on this article. The prices are accurate and items in stock as of the time of publication.

10 – Instax Mini Link Smartphone Printer
The Instax Mini Link smartphone printer has been dominating the instant photography market. The Fujifilm's creation responds to touch and movement, turning your favorite digital memories from any occasion into an instant print. Here's the thing, you can turn it upside down to reprint or you can go back and forth for the zooming effect.
The way it works is really easy. All you have to do is connecting your phone device with the printer using the Instax Mini Link app, add fun filters and frames to your photos and wait for them to come out within 12 seconds.
Here's a promising review from Eirene: "I bought this printer for myself because I adore my mini polaroids. Totally worth every penny. I have been printing like a maniac for my album and journal. It is great because you can print out those pictures on your phone and the quality is amazing. The app allows you to play with the colors and quality and the printing process is super easy and quick. Also easy to connect to your phone."
Price: $99.99+ (available in three colors)
9 – Look Good Doormat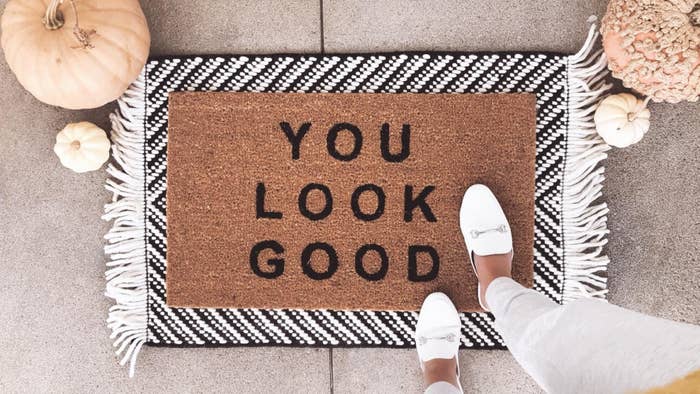 We all know that getting the right doormat is not as easy as picking up one. But the following complementary doormat is going to change that. Whether you got up, wearing new clothes on you or simply looking gorgeous, they'll be always someone appreciates you. And here's the fun part, greet your guests before they even open the door (heh).
Promising review from Amazon Customer: "Super cute and so happy I found this! Makes all of my visitors and I feel good every time we go to my front door."
Price: $45.99+ (available in two designs)
8 – Revlon One-Step Hair Dryer & Volumizer Hot Air Brush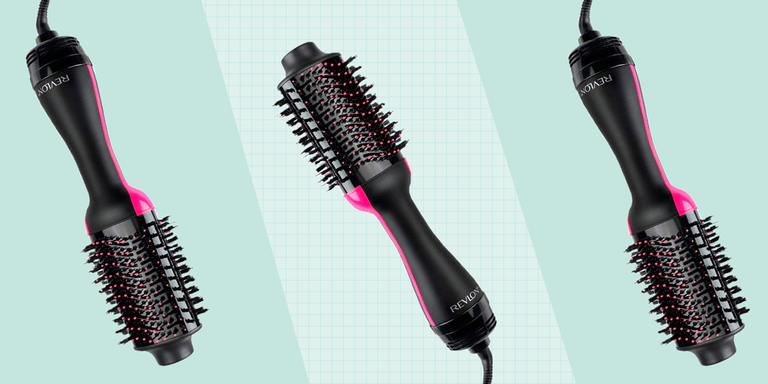 The five-star Revlon One-Step Hair Dryer & Volumizer Hot Air Brush is a total game-changer. The Dyson AirWrap's wonder is able to transform the mop of your thick curly hair, to a silky smooth flat sheet within 15 minutes. So, it's also perfect for those who can't dry their own hair.
Promising review from SAHM2011: "I have very thick, wavy hair. I can never blow out my hair because it's too hard to hold the round brush and hairdryer in the right spots. THIS!! It is everything all in one and the oval shape makes it so easy to use. It gets really hot. It is a little loud on high, but I've found if my hair is already a little dry then I can just use it on low. I used a blow-dry primer spray to accelerate the drying time and protect my hair. I'm in love! The flat iron always flattens my hair and makes it look dry. This straightens and retains the volume and gives it a soft, non-damaged look."
Price: $38.99+ (available in four colors)
7 – Zyllion Shiatsu Back and Neck Massager
Working out consistently or sitting in an uncomfortable position is originating a severe pain on your neck and shoulder. Those sore muscles are in need of some relaxation. The Shiatsu Heated Back and Neck Massager is the most effective way to liberate your muscles from the pain. Although the device can't fully replace masseur's hands, it's really handy when it comes to relaxing overused and tight muscles, and it automatically changes direction every minute.
The wonder creation can be plugged into the wall in use, and f it exceeds a certain temperature, it will automatically shut off.
Promising review from Christina F. Sy: "I'm writing this review because I am about to buy my ninth one! This makes the perfect present for family, friends, coworkers… really whoever you are buying this for will love you for it! And so will their family members that try it out. It's really addicting to use. I'm typically running mine on a daily basis for a couple of hours at a time. It also worked great with the car adapter during a long road trip — although I think I would be too relaxed to use this while driving! My sister asked if I was working for this company as I can't stop raving about this product and buying more as gifts! Just buy it already. You won't regret it!."
Price: $49.95+ (available on Amazon)
6 – Wacky Waving Inflatable Tube Guy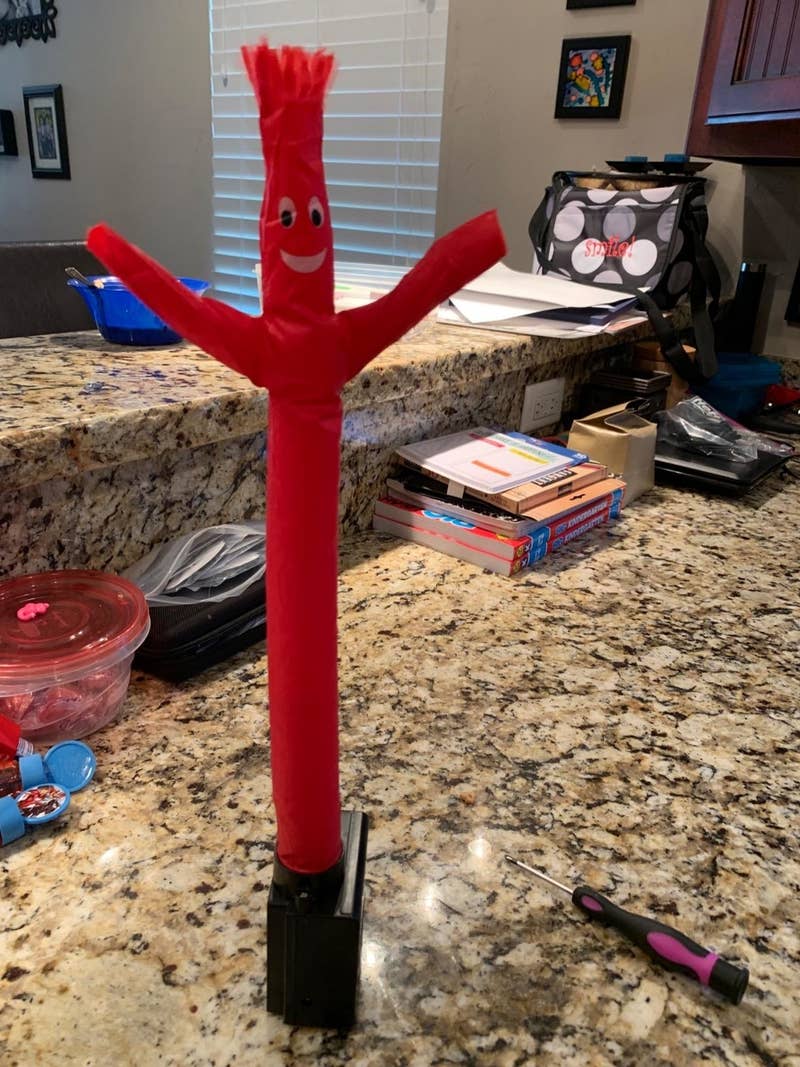 The Tube Guy is the perfect desktop companion to congratulate yourself for cleaning and organizing your desk. And they also make charming gifts, too!
Promising review from Robert Wurstner: "I opened the package and screamed for joy! As I placed the 9-volt battery my hands were trembling with what was going to happen next! As I turned on the wacky waving inflatable tube man I knew I have a friend for life. Someone you can really count on cheering you up when you are feeling down. He brought me such joy I started to cry with laughter and happiness."
Price: $7.77+ (available in different colors)
5 – Gorse Butterfly
A lucky Gorse Butterfly to jazz up your keys when you get your license or lease a new car. And you can even use it as handbag keychain decoration.
Promising review from Gemma Serenity Gorokhoff: " sturdy, beautiful, stays put for weeks and months, I have put it on my purse for the decoration because it's the cutest thing I've seen until now, and it makes me stand out."
Price: $8.99+ (available on Amazon).
4 – 14oz Wine Glass Tumbler
The five-star stylish 14oz Wine Glass Tumbler with Splash-proof Lid to fill with wine after a long, productive day. It's made of vacuum insulated stainless steel. The Glass is designed to hold 410ml of your favorite wine and keep it at the same temperature.
Promising review from Roxmywhitesox: "Well made, durable wine glass. Let's not forget just how GORGEOUS this thing is! The picture doesn't do justice to the glitter, it really shimmers in the sun. Tested and proven on the lake this past weekend! It truly keeps any liquid cold — more than just wine. I've even seen some use it as an ice cream dish (will definitely be trying that out)."
Price: $19.99 (available in 31 colors).
3 – Best Friends Neck Crew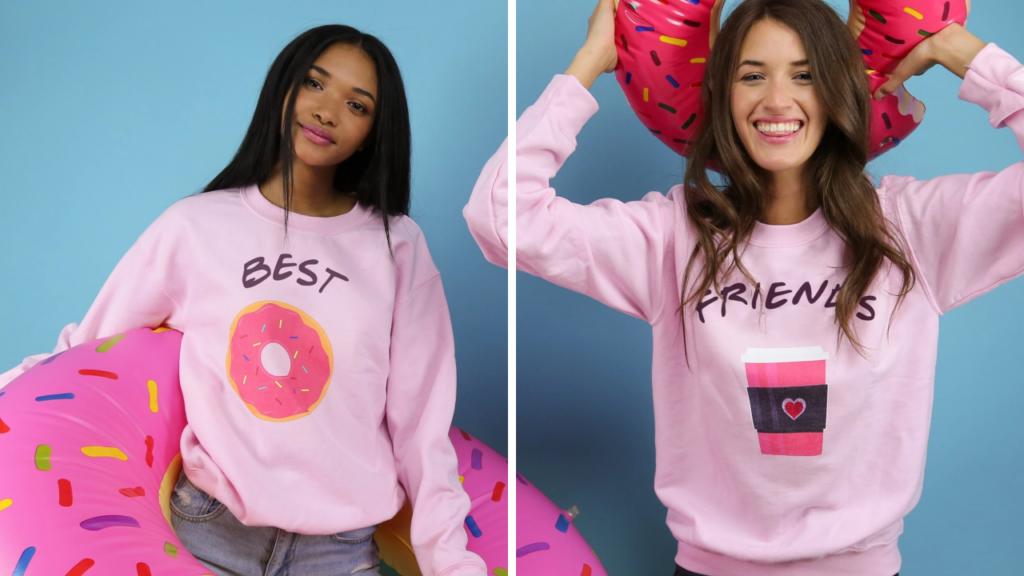 A Friends crew neck is the type of shirt or sweater suitable for you and your best friend. It's the most incredible way to share the love with the closet person in your life. And It'll also make a great Galentine's Day gift, just think about.
Price: $45 (also available in Coffee and Donut designs and in sizes S–L ).
2 – Wireless Bluetooth Karaoke Microphone with Controllable LED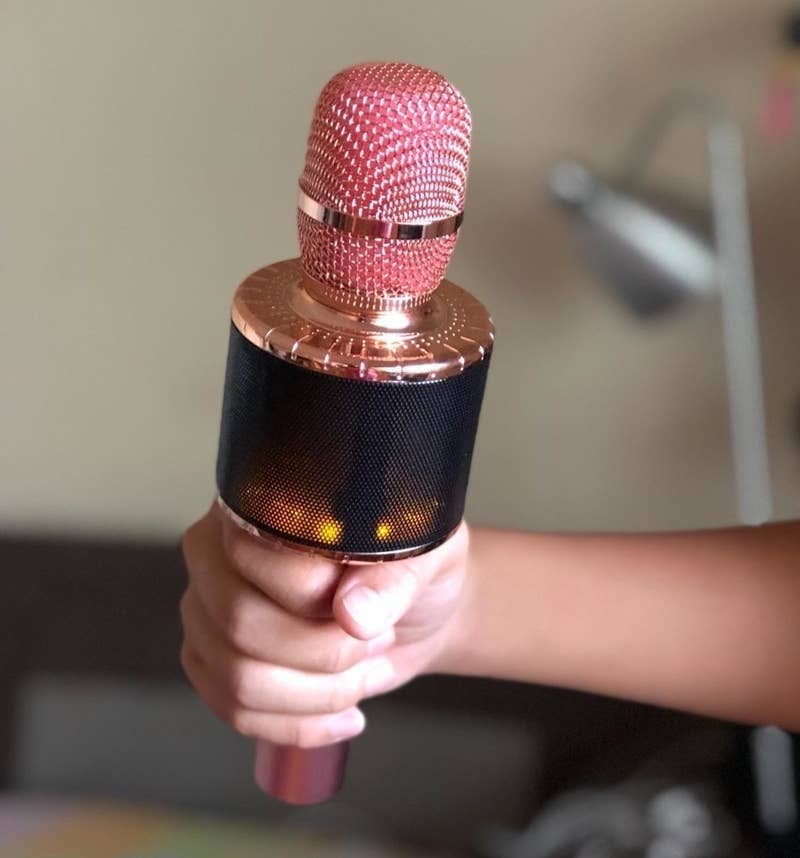 The wireless Bluetooth karaoke microphone is an aural carnival, which can be used as a speaker and a recorder with dynamic colorful LED lights. After finishing all your chores, the BONAOK's wonder is your option to loosen up and have some fun.
Promising review from saracourtneyw: "I purchased this as a gift for my daughter for Christmas, but let me tell you the WHOLE family has been using this microphone. This thing is a party on the go!! The speaker is unbelievably clear for the size and price point. We had no trouble linking up the Bluetooth, it synced right out of the box — we didn't even have to read any complicated directions. Would for sure purchase again. It is so much fun!! The blinking lights and ability to play basically any song you can get on your device makes this microphone well worth the money."
Price: $32.99 (available in five colors).
1 – Longline Blazer Cape
A longline cape blazer, it's what I recommend to reward yourself after killing it in a presentation or fulfilling a monthly goal at work.
Promising review from MeMyselfandI: "I cannot rave enough about this cape blazer. ALWAYS go by measurements, not by size and you will be 100% happy. This cape blazer is definitely high quality — very classy. You will definitely love it! I pair it with blouses and slacks for work, or when I'm going out with the girls some leather leggings and heels or even a tank and jeans! It is so pretty I have it in black, wine and green, and it is a perfect fit in all colors."
Price: $36 (available in sizes S–2XL and seven colors).