2019 has seen many internet personalities transform themselves for modest online characters into major corporate entities because of one word, YouTube. That being said, these creators even took a big step towards diversifying their income from relying only on Google's Adsense.
Being their own brand off the platform and making loads of money via their own line of merchandise, sponsorship, and lucrative endorsement deals. We can see YouTubers buying up enough luxury cars that fill up a parking lot, some are buying up millions of dollars of properties all over the world, and others, getting themselves iced out with Diamond Chains & expensive watches.
You've all seen the Forbes top ten lists for highest-paid YouTubers stars last year. Truth be told, kids were killing it, including Ryans' World, Like Nasty Vlog and Preston.
But on this list, we're not going to feature any kids (we would list them after getting over 13). Instead, it's going to be a little custom-tailored to fit our audience. Don't worry, they are all super-rich.
And don't be surprised if you couldn't find some of the most popular YouTube gurus such as Mr. Beast. Well! He would definitely be placed on this list if he kept more of that sweet ad revenue for himself. Although, it's incredible to see him giving it all away to other people.
5 – AZZYLAND
Azzyland is a Canadian YouTuber featured as the number 10 most watched Creator in YouTube rewind for 2019. Her content mainly involves gaming videos, reactions, vlogs and other random entertaining content. Sitting on over 11million subscribers and pulling in on average 5.8 million views a day according to the social blade. Azzyland becomes one of the biggest stars on the platform.
Now a bad month in terms of views for the Azzyland channel is 155 million views and her best one ever was 242 million. She's growing up like a skyrocket on Instagram with 2 million followers… the social influencer has come a long way. That being said, she was also able to buy herself a penthouse in the heart of Toronto. And she shared the good news with her fans in a video titled "MY NEW PENTHOUSE TOUR".
Before moving to the next spot, Azzyland is dating another famous YouTuber called Kwebbelkop.
4 – David Dobrik
It's an unexpected way to start this but it was publicly revealed last year that all David Dobrik's videos have been claimed. In other words, his 15.6 million subscribers on the platform and his 200 to 300 million views a month they've been going all the way to a record label.
Don't get me wrong, it doesn't mean that money isn't coming from somewhere. The 23-year-old do giveaway cars, food and free money to random people. Dobrik also got himself a nice million dollars LA House, which you should not visit. Seriously, he's tired of people knocking on his door. And he also picked up for himself a Tesla and a Ferrari.
Now, before moving to the next female, the vlogger David Dobrik who often vlog with a group of creators dubbed The Vlog Squad was recently named Generation Z's favorite social media personality in a survey from financial analyst firm Piper Jaffray.
3 – SSSniperWolf
At number three we got SSSniperWolf, an American YouTuber gamer or let's say she was. Because since 2017, the majority of her content has been reaction videos and a little bit of vlogging. The superstar who sitting on over 18 million subscribers on the main channel recently picked herself up a new Mansion in LA with 2.9 million dollars. That's pretty awesome Congrats to her.
Alia Marie SSSniperWolf's full name also got a side-channel called Little Lia with another 2 million subs. She pulls an average of 150 million views a month and has almost 5 billion total views. Alia also got 4.5 million followers on Instagram. Here's the thing, on every single YouTube video she uploads, it seems to get 1+ million views. Well! Keep it up SSSniperWolf.
2 – PewDiePie
Last year has been a big year for PewDiePie hitting 100 million subscribers. The most successful personality on the platform has 24.5 billion views and an average of 400 million views a month. Septemeber of the last year was what I believe the all-time high month with over 613 million views.
The same month he hit the 100 million subs he got married to his long-term girlfriend, Marzia Bisognin.
To be fair, he did become immensely successful and rich. The Sweden-born, whose real name is Felix Kjellberg is implementing a lot of multiple streams of revenue from video games to merch, his gaming chair, his G fuel sponsorship and more.
Now I can't even take a stab into his earnings because when it comes to PewDiePie what do we know? Although, he has an estimated net worth of $20 million.
1 – Jeffree Star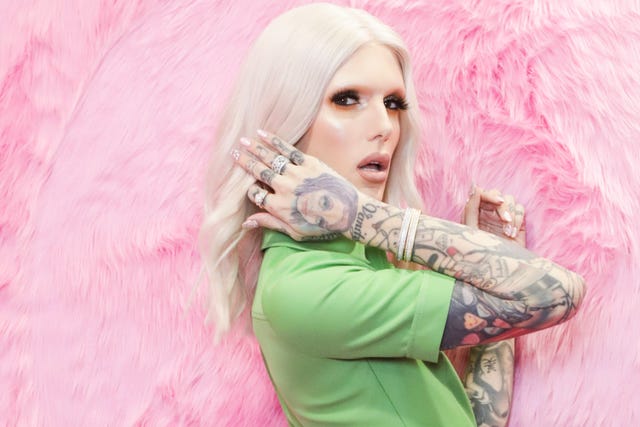 In the final spot, we've got Jeffree Star. You didn't see that coming, do you? The makeup guru has changed the game completely, and he uses YouTube's potentials like a means for his makeup empire. He doesn't even need the YouTube revenue. Some websites go as far as to estimate that the American cosmetic entrepreneur has a net worth of $200 million.
Although Jeffree Star is not as frequent as an uploader with an average of one video per week, which searches to nearly 10 million views, he's sitting on all of 17.3 million subscribers and 2 billion total views. Now, Jeffree founded his cosmetics brand 6 years ago, which allows him to afford all the lavish toys for the boys and a house fit for a king.
The famous YouTuber has picked up a new mega-mansion for him and his boyfriend Nathan Schwandt with $14.6 million, which can only be described as "sickening".