School is canceled. It's officially a snow day! And kids are usually the most excited once about it. That being said, a surprising day off for the kids may not be one for you. As schools close, their imaginations open up wide to all the potentials the day has in store.
It's always a challenging day for parents to get things done. Especially these working from home, which becomes a lot more easier than ever. Kids are always going to interpret you from time to time without declarations of boredom? And it's not always easy to answer them.
Lucky for you, We've rounded up 10 of the best ideas to keep the kiddos busy during a snowing day. If it's really frightful out and they're stuck inside, there are ways to keep them occupied. so without further ado, let's get straight into it.
Snow Painting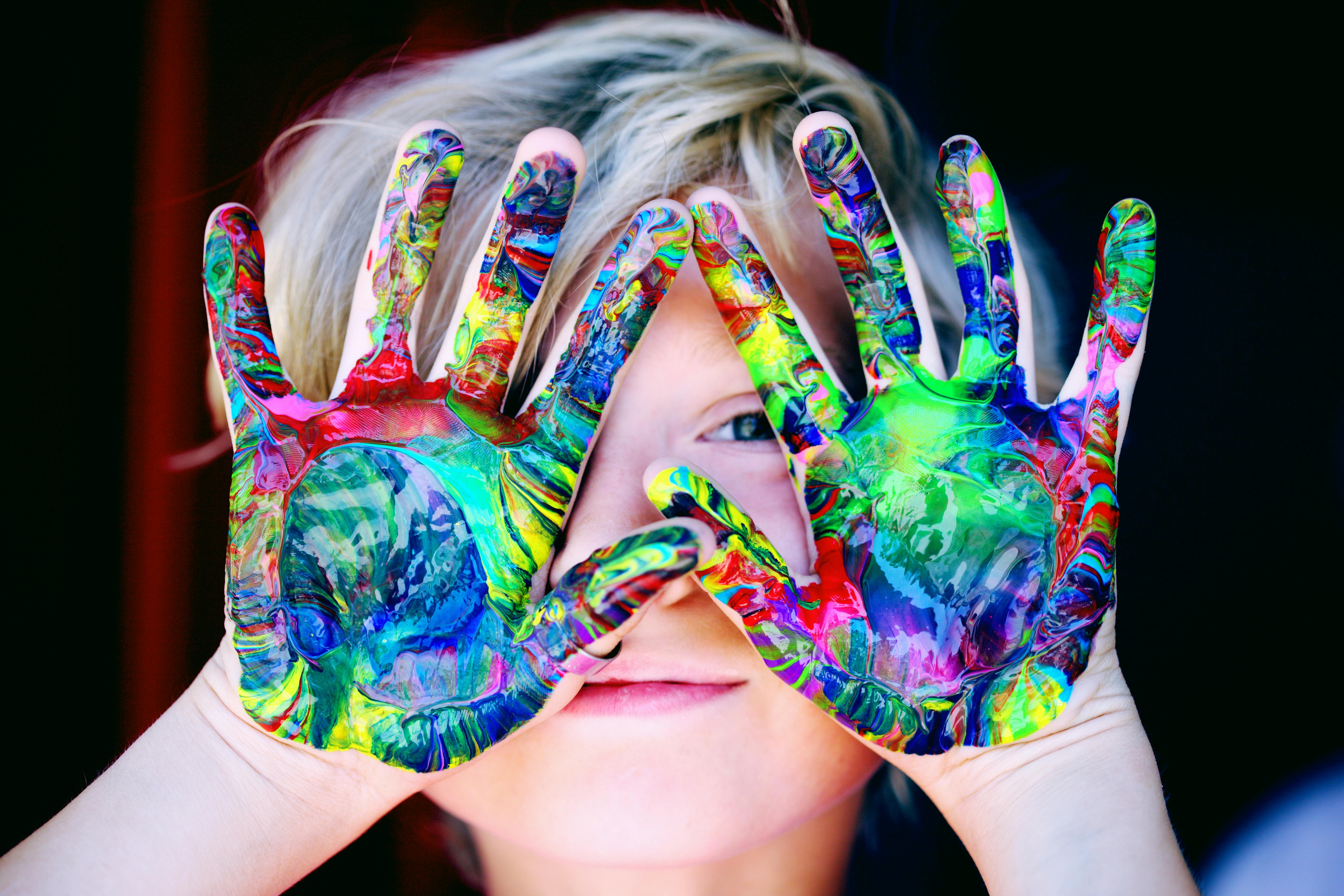 There are several fun ways to make works of art in a snowing day. The tie-dye style of painting the snow is an easy way to nurture artistic talent or introduce kids to the joy of artistic creation. All you need to use is spray bottles filled with colored cold water, as demonstrated on The Spruce. Although it's fun, soggy mitts and frozen fingers aren't always a great combo.
Other moms prefer painting the snow with real paint. Mixing up tempera powder paints and sending the kids outdoors with some paintbrushes to keep them entertained for over an hour at least, like Happy Hooligans.
Build an Igloo
Building an igloo is a pretty tall task to do, right. But it's a brilliant use of engineering and resources to level at your kids. No matter how old they are or what their interests are, they'll each have a different approach to fulfill the challenge. It's always fun to see what your kids can come up with!
Blanket Fort
If you're looking to occupied both children and adults with countless hours of fun, then building a Blanket Fort is your way to go. You won't believe how it's easy to craft one. You can make your fort with everyday household items like blankets, sheets, chairs, and curtain rods. Then let the children enjoy themselves by watching their favorite movie for instance.
Laundry Basket Skee-Ball
Laundry Basket Skee Ball! It's a fantastic game to play indoors. Bring together some ball-pit balls or any lightweight balls that won't involve breaking important stuff (Hopefully). Then get the laundry baskets empty ( if you get the kids to empty them and put things away! That's will be amazing).
Once you're done with that, builds a ramp from cardboard to put it all together. It's a simple game to set, as shown by Frugal Fun for Boys and Girls, to the point where school-aged kids can craft it together themselves.
DIY Snow Globes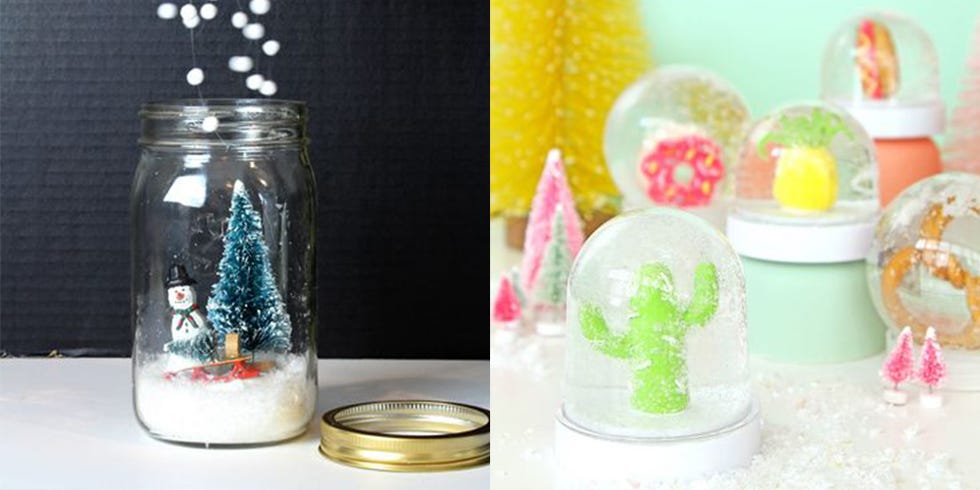 Build your own tiny universe Snow Globe, instead of waiting for real snow to fall. When it's ugly to play outdoor, the next best thing is playing inside. Angela Andaloro created an awesome guide that walks you step by step to build an ultimate one.
Besides understanding the science behind it, building snow globes is great as keepsakes and they make charming gifts, too!
Plastic Cup Towers
Plastic Cup Towers it's a simple challenge to encourage the kids to think smartly and creatively at the same time. Get together some classic Solo cups and some sturdy card stock to build the strongest or the tallest structure.
You'll be surprised by how it's easy to setup. Building Plastic Cup Towers can be a great source of entertainment in all sorts of ways. You won't regret it.
Salt Painting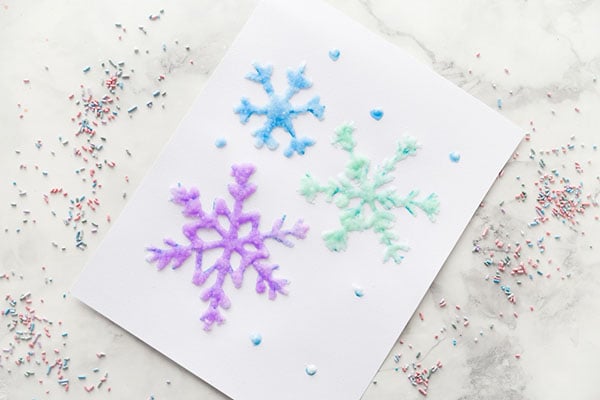 Creating a Snowflake salt painting is tons of fun!  It's the simplest painting activity that combines both science and art. Just grab salt, glue, and food coloring! That's all you need. But In case you aren't confident in your freehand abilities, check out the following post "Little Bins for Little Hands" for a full guide.
Giant Floor Puzzle
Giant floor puzzle with a colorful design, which could be found abandoned somewhere whiting your house, is an outstanding idea for a snowing day. Just to let you know, it's not suitable for children under the age of 3 years. It could cause them a choking hazard due to the small parts. Otherwise, it's great for brain development, concentration, and teamwork. So It's definitely something I want to encourage.
Snow Sports
There are several sports for both spring and summer but as winters approach, cross-country and downhill skiing become a favorite kids' outdoor sport. Kids love winter sports.
As Push2Play suggests, embed some tin cans in the snow and use sticks to make golf holes. After that, grab some pool floats and make your own sledding hill. Make your kids have fun with these popular winter sports!
Pin the Parts on a Snowman
Building a snowman can be one of the first things that every kid (and let's say every adult) sets about doing when winter brings on a world blanketed in white. In case, you have never built a snowman before and you want to give kids some sort of guide, check out the following Ultimate Step-by-Step Guide. Building the coolest snowman in the neighborhood is a challenging and fun thing to do.