YouTube has become the birthplace of content creators who became the world's premier influencers, coveted by advertisers and media outlets for their ability to reach tens of millions of people from around the globe. These stars have been able to turn their personal brands into million-dollar businesses.
Cj So Cool is one of these cases. A Youtuber sensation with an inspiring story as the second phenomenon from Indiana who made it after the Jackson 5. In this publication, we want to bring you closer to the rich life of CJ So Cool. Starting with his luxury cars, big-mention houses, collections…all the way to uniquely special and authentic pieces of jewelry. So, let's get started.
CJ So Cool Cars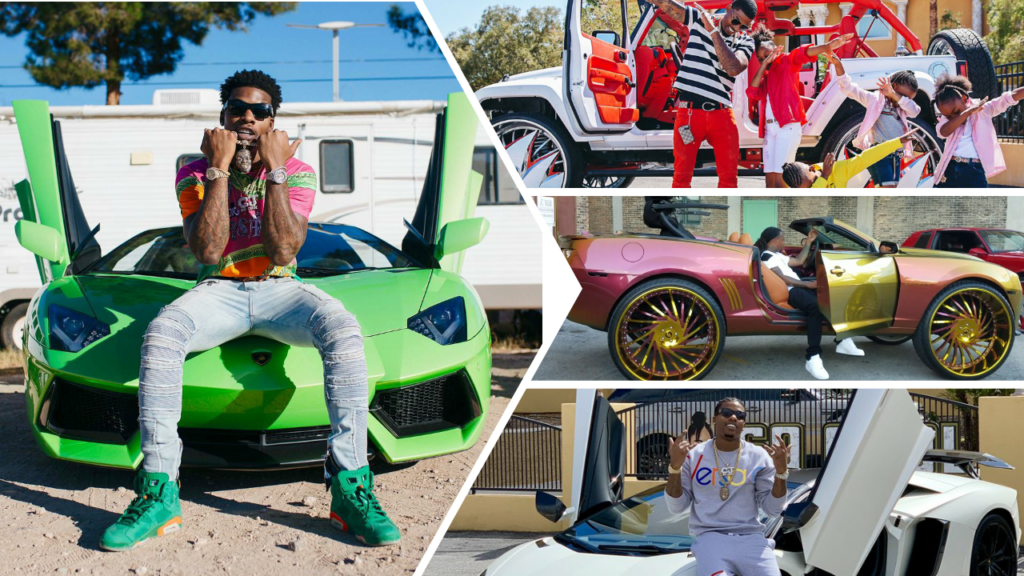 The 30-year-old has been able to afford himself a wide variety of expensive luxury cars including, two Lambos, a 2014 Gallardo that ones sliming in green and the Aventador. He also purchased a Fisker Karma – two Camaros raised up, a Jeep and a Range Rover for Royalty Johnson.
His story with cars is quite phenomenal. back in Gary Indiana, CJ was always souping up old classic cars like his 1986 Chevrolet Monte Carlo. When he first came into money, he made sure to afford himself an assortment of wimps all decked out. The first car he picked up was the white on white Jeep Wrangler.
CJ So Cool Mega Mansion House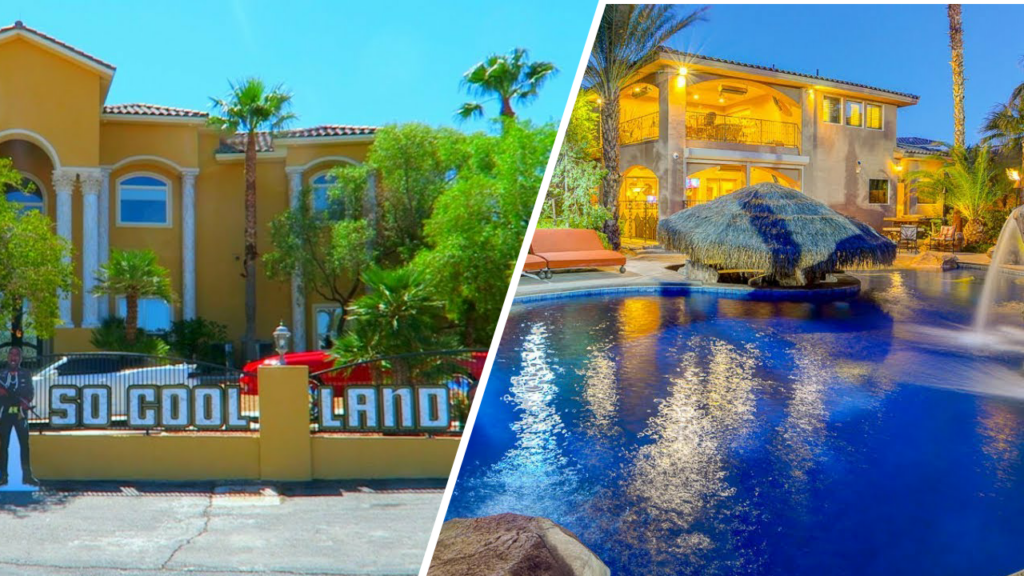 The rich are only getting richer, and they've got the real estate to prove it.
CJ so cool has moved from So Cool Land to His new Mega Mansion house labeled as So Cool World. This mansion is listed on the market to be worth as much as 4.4 million dollars, located 15 minutes away from Las Vegas.
Anyway, taking a look from inside, the house contains two stories, five bedrooms, seven bathrooms, a 14 car epic garage, three pools with one indoor, four jacuzzis, a professional two-lane bowling alley, a movie theater, game room, a tennis court, basketball court, full gym, huge bar, an outdoor kitchen and more. Hold on a second, this mansion is worthy of a celebrity.
Well! this piece of property is 8623 square feet, sitting on almost two acres of land. The place was built in 1997 and listed for 4.4 million dollars…that was in 2018.
Cj So Cool Net Worth
CJ Soo Cool net worth is estimated to be $3.5 million dollars, but it could be much larger than that. Online resources say his net worth could be $4 million dollars or more, but using a YouTube money calculator, he could have earned him as much as $10 million dollars. Of course, That's if everyone watched all the ads, and the CPM (Cost Per Thousand Impressions) was $4,18 dollars per 1000 views.
But after being caught cheating on Royalty Johnson with another woman lately, his stats went a little bit down. He went from an average of 3 million views a day to 1+ million, and 100 million monthly to 32 million. Despite all these stunts, CJ's life just keeps on getting better and icier. I mean when kids start building your big-house mention in Minecraft, that's when you know you've really made it.
The American Youtuber also earns extra money by making sponsored videos with companies such as "Seat Geek" and merchandise as well including T-shirts, backpacks, phone cases, gift cards and face pins. He's also receiving a load of money from his music releases.
Cj So Cool Life Story
Gordon Arrow James Brady was born on 29th March 1989 in Gary, Indiana. The birthplace of the old Jackson 5, which were one of the biggest phenomenons in pop music during the early '70s.
His first job was at Denny's, working with $7.5 dollars per hour. Afterword, he worked at Chucky Cheese wearing the mouse costume for 15 bucks an hour. He joined the Navy in 2007 and spend two years in the Presidential Guard. He worked his way up to a salary of $3,000 a month. Truth be told, he was working day nights and weekends. It's really an inspiring story, isn't it? Well! We're not done yet.
He was honorably discharged and moved home. After being there for quite some time, CJ So Cool found out that he was going to be a father and he needed a real job. As a result, he moved to Las Vegas and served as a dealer for Blackjack, Poker, and Casino.
When it comes to YouTube, CJ was introduced to the platform by his young brother, Jinx. The king of reaction whose real name is Anthony Brady was making all kinds of money. CJ's first YouTuber video was "CJ Shoe Collection" which showcased his exclusive Jordan Collection. Around that time, the content creator met the social media star Royalty Johnson who had three kids back then. They got married and that's how CJ So Sool Family all came together.
CJ So Scool Family
One of the coolest family channels on the entire platform is CJ So Cool family. He keeps his family-friendly which means, he's getting a lot of that sweet premium ad revenue. The Indiana rapper also diversified the content he's creating, dropping a ton of music. Tracks like SALTY, FUEGO featuring Royalty along with movie clips. Well! they've pulled in tens of millions of views combined.
He's even been featured on World Star Hip-Hop with his tracks "Memories". You can find hs music's on both Apple Music and Spotify.
Just to let you know before the couple meets at "Planet Hollywood Casino". Royalty has three kids with another man, their names are Leonidas, Karnation, and J'aaliyah. And CJ itself has a daughter named Camari from a previous relationship.
CJ So Cool Garage
CJ So Cool's garage is worth a couple of millions on its own. Two custom Camaros raised up on 32-Inch Wheels, one in green and purple and the other in red and gold. Truth be told, I got no idea how much these cost CJ but the first one cost him an easy 100k.
The next big purchase was his 2014 Lamborghini Gallardo in slime green. Here's the thing, he had been renting this car for months but after a while, he decided to bring it into his garage.
And because one Lamborghini is just never enough, he brought another one. It was a Lamborghini Aventador which cost him 500k. That being said, Cj got himself into a bit of an accident, where he wrecked the font of one of his Lamborghinis. Well! Cj you got to play it safe though.
he's also got the base model of Fisker Karma which costs around 100K, and a Range Rover for Royalty which starts out at an easy 150k. In addition, Cj surprised his grandmother with a brand new car just for paying him a visit. And even the kids, they got also custom whips of their own, electric-powered Lambos.
CJ Soo Cool Shoe Collection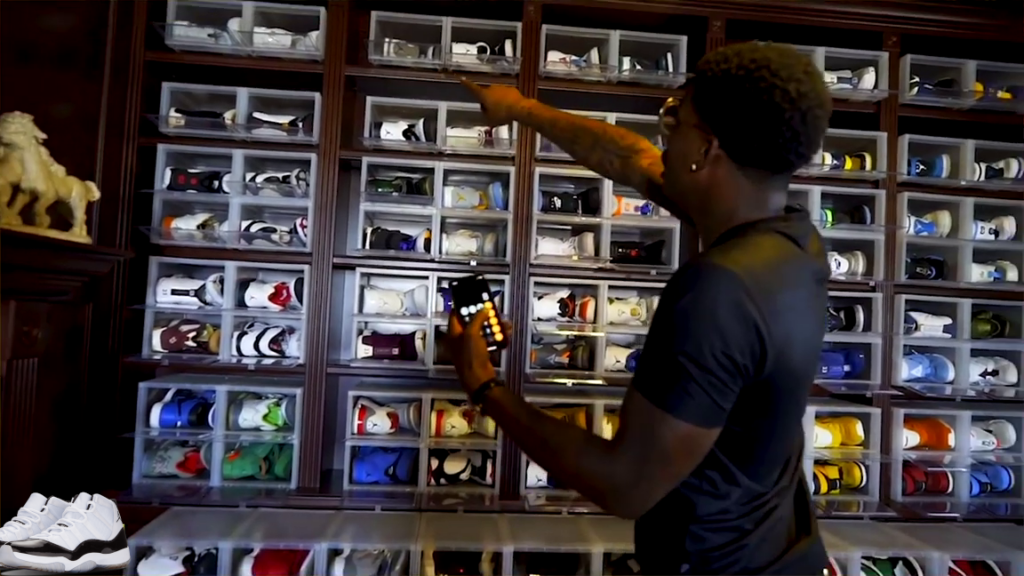 When it comes to shoes, it's another lifelong obsession for CJ. He has a keen interest in shoes with an amazing shoe collection. He's got the iconic Jordans shoes, he's got designer shoes as well. and he's even got some Future kicks sneakers. The man's living the dream.
The last time we counted his shoes, he was sitting on 320 pairs. But he's got goals to bring his collection up to 500 and hopefully one day a thousand.
Cj So Cool Dogs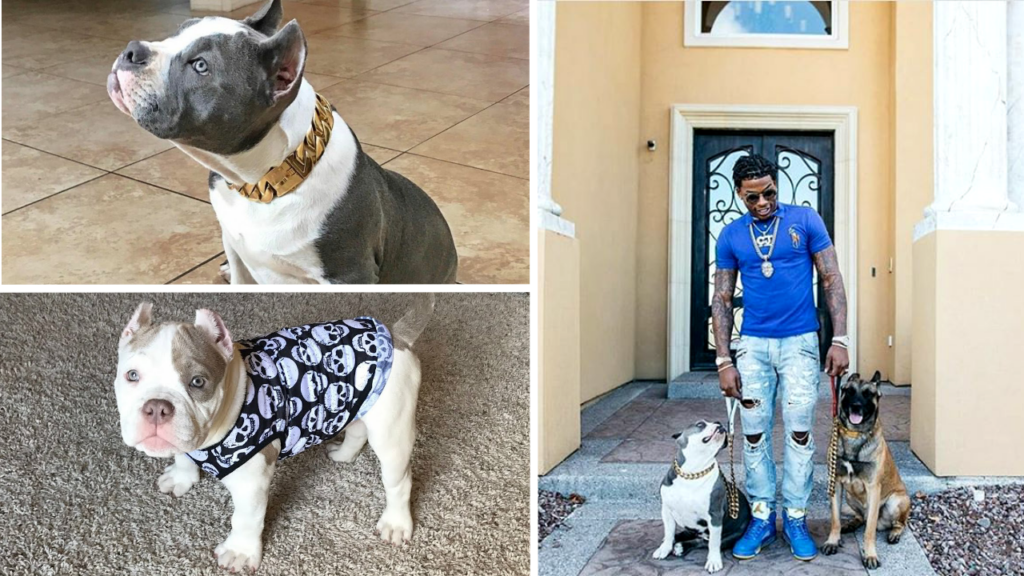 Another big purchase in his life has been his dogs. The first one was a service dog called Rhino, he got him as a puppy. The exotic breed costs CJ between $2000 to $5000. Next on the list, we got Blanco. A micro bulldog who sadly passed away.
Another service dog called Blanco, which was in part a guard dog when some fans broke into CJ's guest house. Truth be told, this dog was trained well because it cost him almost 75 K. That's an expensive dog over there.
YouTube Channel
CJ launched his YouTuber channel back in December 2014 while he was at school. He hardly managed to reach 35k view after a long time. Thanks to his brother Jinix who was already a sensation on YouTube at that time, CJ's content quality has been uplifted, and he started making reaction videos which were very funny.
But now, the superstar is sitting on almost 8 million subscribers and 2 billion total views. And he's pulling an average of 1+ views per day after they were 3 million a day. July of the last year was what I believe the all-time hight month with over 94 million views. His content mainly involves his entire family who is enjoying the rich life, with him buying the family crazy gifts, shopping sprees, Yeezys, jewelry, V-BUCKS and epic parties.
Also Read: Cj So Cool Caught Cheating 0n Royalty Jonhson With Another Women
Pieces of jewelry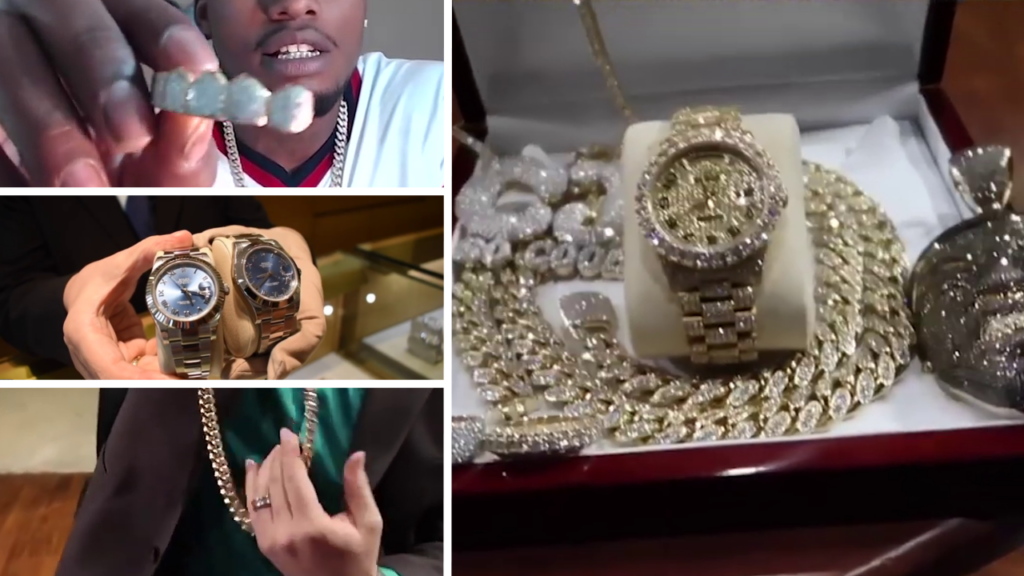 The man has been collecting pieces of jewelry that are uniquely special and authentic. It was in February of 2017, CJ picked up his very first Rolex 40,000. Besides watches, he got expensive chains as well. To the point where his collection may be worth more than most people's net worth.
He says about one of his jewelry collections (the one on bottom-right from the picture above), "I don't care what anyone says. This is my favorite custom piece out of all the jewelry that I don't know."
Soon enough, every member of his family would be getting their own set of jewelry. Well! I don't know about you guys but this article starts to make me jealous. It makes me like I want to move to Las Vegas and start a family channel. Can you imagine that happen?.
Anyway, CJ So Cool is currently residing in his Las Vegas villa with his family. It's all good. That was it, be sure to let us know who's next you want us to cover its rich life down in the comments.
And Thank you for making it all the way down.